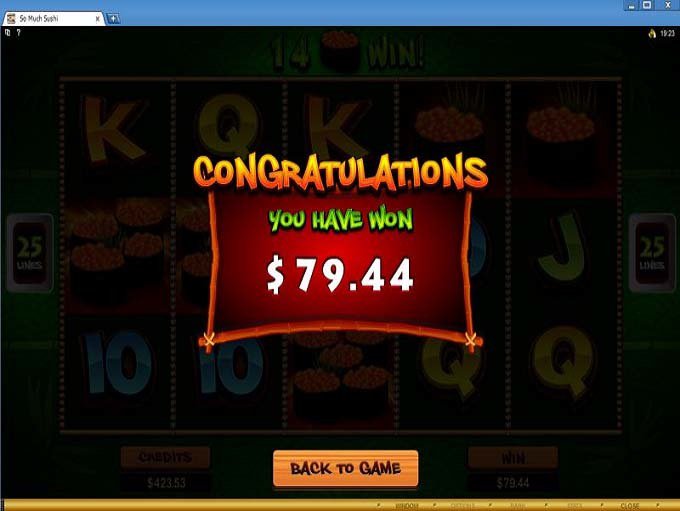 A few days ago I was in a Japanese restaurant with my friend. It is one of the best moments that I can imagine – chatting with my best friend and eating my favorite food – sushi. After a delicious lunch we went for a walk; the weather was beautiful so it was a great day. After that, when I got home the only thing I thought would be appropriate to do was to play the "So much Sushi" slot.
I went to Casino Action and I continued my previous session so I had quite a lot – $390 on my account. My bet was $2; I was really happy with the base game; I got to €450! I had some really nice wins of around $40 quite a few times. Even though I was quite satisfied with the slot I triggered Free Spins having $350. I chose 12 Free Games and I won decent $79.44, and two spins later I triggered them again - I chose 14 this time and I won $56.32! Eventually I finished playing with $450 on my account.
I then briefly played the "Fat Lady Sings" slot; I realized I was playing with a much bigger bet than I thought so I got annoyed and decided not to play it anymore even though I like the slot. I lost $50 in a few spins.
I then switched to the "Game of Thrones" slot. I first try the 15-line version because I prefer that one. My bet was $1.5 bet, but rather quickly I switched to the 243-line version. My bet was $1.2, and I think I made a great decision. I triggered Free Spins and chose the Starks with 14 Free Spins and x3 multiplier winning modest $28.32, but I got over $400 which was great! Next time I triggered them I chose 18 Free Spins with x2 multiplier earning $36.96! I eventually decided to take a break having $390.
All in all I had a lot of fun; it was very exciting just like playing slots is supposed to be so I can't wait to continue next time.
Markotik