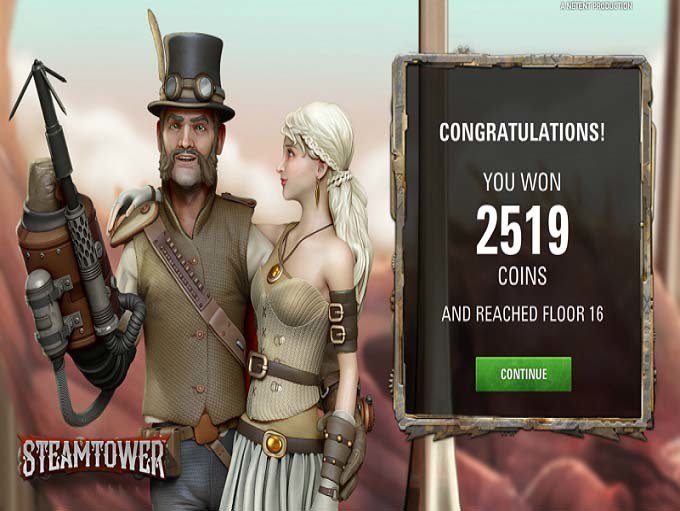 Last time I went to a movie theatre I watched the last sequel of "The Hobbit". I've never been a huge fan of the series but thanks to my friend, I got addicted and not only did I read the books, I watched the whole trilogy of "The Lord of the Rings" and then "The Hobbit" as well. I have to say that I was very disappointed with "The Battle of Five Armies"; pure and simple, it was boring. Perhaps I should have stayed at home and play slots; that's rarely ever boring especially when there's a new release available.
Recently the "Steam Tower" slot has been released and I went to Next Casino to give it a try. I had €50 on my account and I was excited to start spinning. I heard so many things about the slot, and I tried to keep my expectations in check. My bet was €0.3, and already after three or four spins I got 10 Free Games. And right away I managed to save the princess winning €50.38! I almost doubled my balance with that win – I got to €99! Having €75 I triggered them again but I got only to the fourth floor winning €6. The base game wasn't bad at all and I kept triggering the Free Games feature. I couldn't win as much as the first time I got them, but all wins came at the right times so I spent most of my session between €75 and €80. I continued playing for quite some time and after I played the feature two more times winning €11.56 and €6.30, I decided to stop having pretty decent €95.
Not sure why, but then I chose to play the "Fisticuffs" slot, probably because my nieces were running around screaming so I couldn't keep thinking properly. I played with a €0.4 bet, and literally nothing happened. I allowed myself to lose €45 in only a few minutes when I decided to stop, take a break and continue a bit later, when I'm alone and in quiet.
Markotik