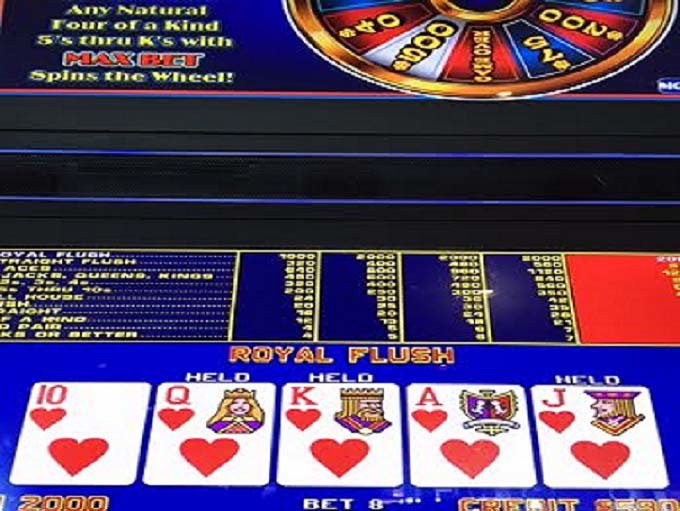 I woke up the other day and was in the mood for some Video Poker action but not necessarily the hustle and bustle of the big land based Casino. So I decided the perfect spot to play is Dotty's!
Since these little Casino cafés have opened around the area about a year ago I have I on occasion will drop in. What I like about going there is it seems like the machines are not as tight as the land based. That is what one of the employees told me and after playing I tend to agree.
There is only 5 machines to choose from and each one has multiple game options with popular software like WMS, IGT and Aristocrat.
For the most part I play Video Poker with the top prize of $500 for a Royal Flush. Although that may sound a bit disappointing considering for the same .25 machine it is $1,000 but with better odds and local convenience it is worth the gamble.
Besides there is that added Bonus with the Spin of the Wheel. Every time a player gets a four of a kind 5's thru K's they get a Free Spin on the wheel with prizes up to $500 up for grabs.
I had slipped $40 in the machine and played my favorite game Super Double Bonus Poker where four J's – K's pay 960 credits plus a spin on the wheel!
I was about 10 minutes in when I was dealt King, Queen and Jack of hearts. Hitting the draw button and holding my breath I landed that glorious Royal Flush!
I managed to climb up to $620 and vowed that once I got down to $540 I would walk away with the money I put in a sweet $500 profit.
I was a good girl and did exactly that! Not a bad considering I played a total of 15 minutes total. I have to admit though it was not easy because as we all know winning isn't the only thrill……..it's the playing too!
lipstick_xoxos