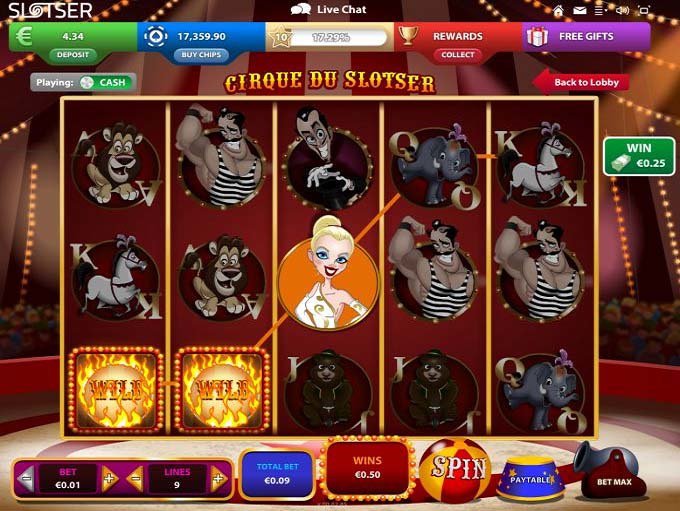 I had €10 left on my account at Slotser Casino so naturally I wanted to use them, and who knows, maybe I get lucky and turn things around since I've been very unlucky with their games. The fact is that I don't play often at this site; I got only to level 10, unlocking two or three slots. I haven't been too impressed with the games so far; the features are really difficult to trigger and whenever I managed to get them, they paid rather small amounts.
This time I started off with the slot I unlocked the last – "Share-luck Holms". My bet was €0.25 but I won nothing. I lost €5 in a matter of seconds – I didn't have a single winning spin! That was why I decide not waste all my money at once though I wasn't sure if other slots would make any difference. Than my superstition kicked in, and I started thinking that I should do a headstand and then click the spin button… I wish that could help.
But instead I decided to continue being in the same, sitting position with the "Cirque du Slotser" slot. I lowered my bet to €0.09 just so I have a bit longer playtime – I didn't expect anything sensational to happen. And I was right; I did manage to trigger The Bonus Magic Hatrick, but I won €0.85, which wasn't even 10x my bet. I decided to continue spinning until I hit zero on my account, and I didn't have to wait long for that to happen.
After I lost my real money I decided to play with Free Chips for a while; I wanted to unlock new games and see if they are any good. I think that's a great feature on the site, and it is easier to make a decision whether to deposit or not. Right now I don't need much chips to get to level 12; I hope that will happen soon because I'm very impatient to try out new slots. Who knows, maybe I will be luckier and earn some money next time.
Markotik