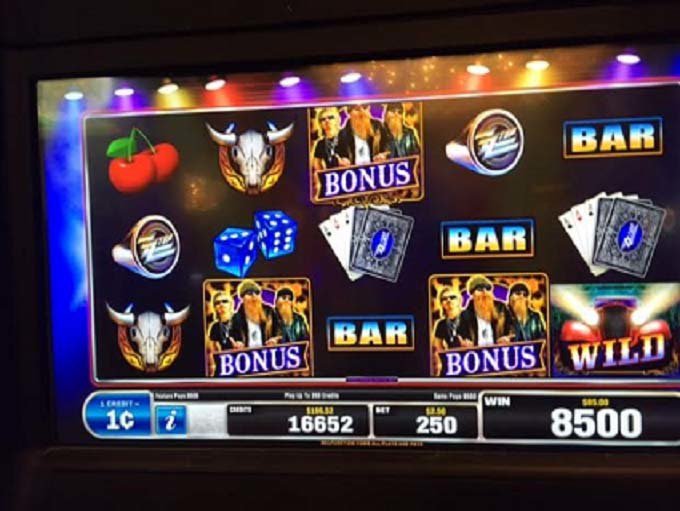 She's Got Legs Slot Bonus.
How could you pass up a Slot machine with a hot classic tune like this playing?
"She's got legs, she knows how to use them
She never begs, she knows how to choose them
She's holdin' legs, wonderin' how to feel them
Would you get behind them if you could only find them?
She's my baby, she's my baby
Yeah, it's alright, oh yeah
She's got hair down to her fanny
She's kinda jet set, try undo her panties
Every time she's dancin' she knows what to do
Everybody wants to see, to see if she can use it"
Taking a short 50 minute ride to Majestic Star Casino in Gary Indiana, it was new adventure for me. I didn't realize at first that it was still on a boat. There are actually two boats side by side boat offering several floors with the same type of games in each.
I was on the hunt for new Slots that I have never played before to sort of amp up the excitement level more (not that I need much)!
All of a sudden I hear ZZ Tops song Legs and like wild buck I was frantic to find where it was coming from. Then I spotted it, there were only two machines and one seat open. I pretended to be all casual as I walked over to it but inside I couldn't quite get there fast enough.
ZZ Top Live From Texas Slot has all the hot top song tracks including: "Cheap Sunglasses," "Gimmie' All Your Lovin'," "Just Got Paid," and "Sharp Dressed Man". There are also some cool live concert clips that pop up during Bonus games. Bally Technologies did a bang up job on this Slot.
I put $20 in the penny machine wagering max bet of $2.50 and don't ya just love it when it gives you the Bonus round right off the bat! Overhead was a giant wheel with different Bonus games including the Progressive Jackpot game, Legs and Sharped Dressed.
After spinning the wheel the big yellow arrow landed on Legs Bonus. I was awarded Free Spins with the locking Wild Legs symbol feature.
I ended up winning $135 and then after triggering the Bonus again the wheel landed on the Progressive Game. There are three Jackpots in this bonus including Big as Texas, Fandango and The Whole Enchilada. The wheel spins and I hoped and prayed it would land on the Whole Enchilada top prize of over $4,000. Of course it landed on lowest progressive Jackpot Big as Texas and I won like 27 bucks.
I redeemed myself after hitting the Legs feature again winning $85 this time and ended up cashing out at $150 with a $130 profit.
lipstick_xoxos