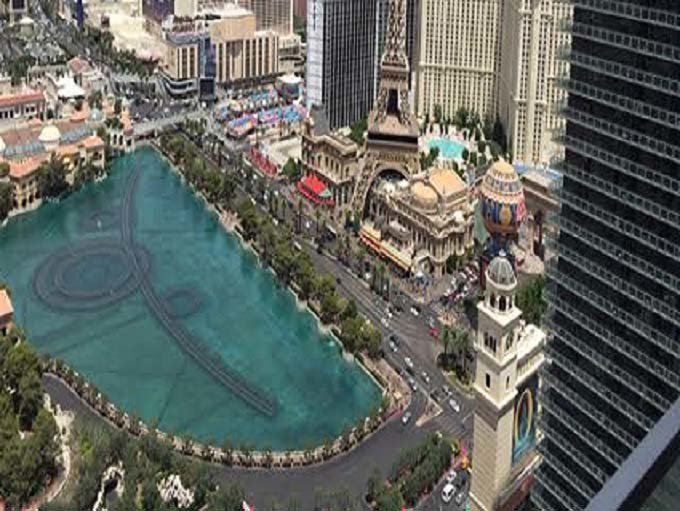 Word of advice; worst time to plan a trip to Las Vegas is on Memorial Day weekend or any holiday for that matter! Not realizing it was a holiday weekend when I booked it, it was mistake I won't repeat. Who ever said revenue was down in Vegas couldn't possibly be telling the truth!
I got this fantastic deal and like the Godfather would say "I'm gonna make him an offer he can't refuse" accept this "he" was a "she" me! Through a partnership with Rivers Casino in Rosemont Illinois: three free nights, limo from the airport, $500 free play and $300 in resort fees at Cosmopolitan Casino. See what I mean, how could I turn that down!
As soon as I got off the plane "Tony" the limo driver texted me to say he was waiting for me by the luggage. The stretch black limo was a sight to behold and I and my friends are already feeling pretty special. It was the first time I wanted the ride from the airport to take much longer than the 10 minute journey!
Once we got to the Casino I went to check in at the front desk and was told "oh no you are in the wrong check-in ma'am follow me please". I am slightly agitated thinking I would have to wait in another line when he leads me to two private double doors. Inside is the VIP registration desk that is quite plush. A bottle of champagne on ice, orange juice, chocolate covered strawberries and pastries were at my fingertips at the back counter. I look at my friends, they look at me and we lip sync in unison "wow" all the while trying hard not to give ourselves away that we are so impressed and playing it cool……lol.
We arrive at our suite, open the door and head straight to the balcony…….yes "balcony" where the view is beyond stunning. We saw the skyline of Vegas and below was the Bellagio dancing fountain. Cosmopolitan Casino is the only resort on the entire Strip that has a balcony. Due to a legal zoning loophole balconies were allowed to stay after the building originally intended for condos fell through from the economy crisis in 2008.
There are lots of little hidden secrets at Cosmopolitan and I was lucky enough to learn about one of them. Outside of the China Poblano restaurant is a door that reads "EXIT". Don't let that intimidate you, walk through it and there you'll find a pizza place open, perfect for a late night snack to bring up to the room!
Most of the restaurants were located on the second floor and found it to be a bit inconvenient when you wanted to grab something quick. The Casino floor was laid out nice with plenty of Table Games, Slots and well just a few Video Poker machines.
There are three pools to choose from we checked out two of them. And here is a tip if you should decide to relax poolside. Rent one of the beds for $200 and providing you spend at least that in food and drinks throughout the day it covers the cost. We easily spent that between the three of us and to be honest it is the only way to get premium service from the servers.
Ahhh now for the gambling experience……….lady luck was nowhere to be found on this trip. As someone once said, if it wasn't for bad luck, I'd have no luck at all! Even so, it was one of the most memorable trips I have ever had.
lipstick_xoxos