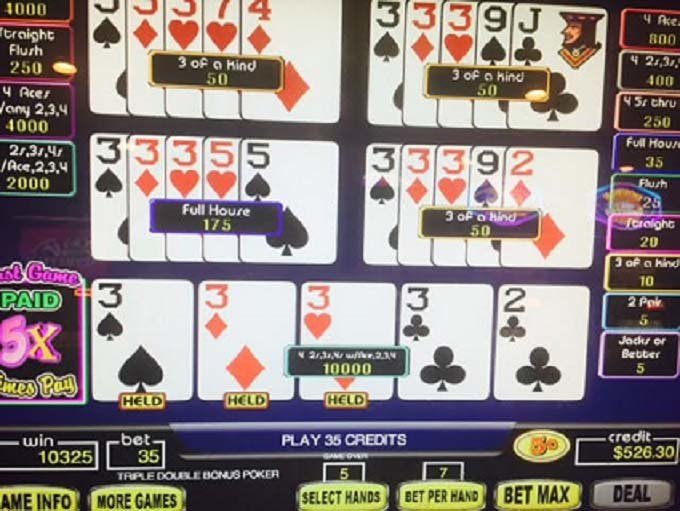 I am a real lover of water and maybe that is part of the reason I love Horseshoe in Hammond, Indiana so much. Sitting along Lake Michigan, it has the most stunning views I have ever seen. Whether you are eating at Jack Binion's Steakhouse, Village Square Buffet or relaxing in the Diamond Lounge a picturesque view of the lake front is viewable.
If you are ever to visit the Chicagoland area, I definitely recommend this Casino just minutes from Downtown. One of many things I do admire on gaming floor is there are still some good old fashion Slots to play. I sat down to take a spin or 2 (more like 100 lol) on the dollar Double Diamond machine, three reel, and one pay line. It is the one that has those symbols with the arrows that will flip up or down on the pay line.
Down $100 I didn't have a single bit of luck so I went over to my favorite stomping ground Video Poker. Love this place because they have a nice variety of nickel multi-hand games. I had a feeling on one of the machine but was hesitant to sit down because I would be sandwiched between two players and really prefer the end seats.
I had to go with my gut feeling so I sat down at Game King All Star Poker machine featuring multiple game selections. I chose Super Double Times Pay and selected the Triple Double Bonus game.
Oh, oh, oh I was so glad I did. Playing 5 hands on max bet at $3.50 per game I was about 15 minutes into playing when I was dealt three 3's but the excitement was escalated because the 5 times multiplier triggered.
I need desperately four 3's with the kicker. I hit the draw button and on the first hand I …………..NAILED it!!
I am now sitting pretty with over $500 big ones and I did the most incredible thing folks…I cashed out.. lmao!!
Me and my buddy headed straight to Jack Binion's for a nice steak dinner. But, why does there always have to be a "but"…..I went and gave back $200 more. It was all still good as I came home $150 ahead.
lipstick_xoxos