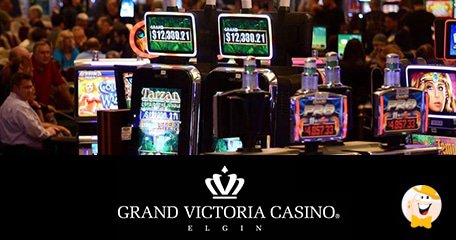 Dealt a Dream Hand with the Kicker
The weather is bitter cold, its dreary outside with no sun in sight and it is a typical January winter day. There is only cure to beat the blues and that is head to Grand Victoria Casino.
I haven't played there in quite some time so I was curious to see if they got in any new Slots and of course Video Poker machines. I like this Casino because they have the nickel and dime Video Poker machines, something that is not always available.
I walked to the back of the Casino floor in the corner to the Video Poker section and was super excited to see they did get a new release!
Hot Roll Poker is similar to Crazy Poker but has a slightly better edge because you do not need a winning pair or better to trigger the multiplier. Here is how it works……
This is a 3 handed game with coin values at .05, .10 and .25. Randomly a pair of dice will roll across your screen either before your hand is dealt, on the draw or both. Add the total number on both dice and it reveals the multiplier up to 12 times.
What is cool about Hot Roll is that the random dice happen quite often, what isn't so cool is many times your lucky to land a pair! I had put two $20 bills in the machine and on the second deal won 4 of a kind with a 9x multiplier on one of the hands.
Now that is a great way to begin, $100 up and I just started! But it was playing me back and forth with small wins here and there and plenty of dead hands. Once my balance went back down to around my original $40 I put in, I decided to move to another Hot Roll machine that opened up.
Sitting at the end seat (my fav spot) I had put in 100 bucks by now and since the nickels weren't doing anything for me upped my ante to ten cents and started to get some decent wins. That's when it happened, i was a dealt one of my dream hands……..four of kind twos with the kicker! Yesssssss I am talking DEALT folks, paying 2000 credits on each hand for a total of 6,000 credits. That was an incredible $600 bucks!
If only the multiplier appeared right? Well I told myself not to complain and be happy I won what I did. I was up over $1000 when things began to slow way down. Once I went back down to $600 again on the machine I decided to cash out and call it a day.
Ended up having a fantastic dinner at the buffet and went home a happy woman! Imagine………dealt…….my head is still reeling over that one!
lipstick_xoxos