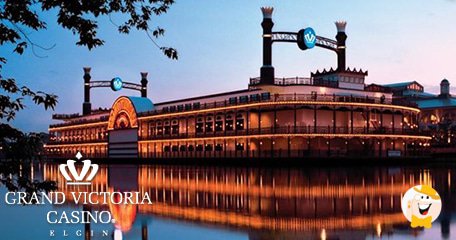 This KISS is the Kiss of Death!
I woke up Monday morning feeling like I was still a bit tipsy from the Super Bowl Sunday party, so my friends and I wanted to keep the momentum up. What better way to have fun then hit Grand Victoria Casino?
I am a Video Poker gal, there is no denying that but every once in a while I do like to dabble on Slots especially ones I have never played before. With Valentine's Day drawing near I simply couldn't resist passing up the KISS Slot machine.
This is a WMS Colossal Slot with 100 pay-lines across the reels. There were only two machines in sitting side by side in the middle of a row. A guy was playing on one machine and had his armed rested on the open machine next to him. Now I am in that awkward uncomfortable situation having to ask him if I could play the machine. He was emotionless appearing not mad or happy just very focused on his own spinning.
I sat down at the penny Slot and played $2.00 per spin after inserting a $100 bill because I had no smaller bills on me. I told myself like have many times before when I put a $100 bucks in a machine that I will cash-out after spending $20.
Well I can't be trusted to cash-out and what on earth ever made me think I was going to considering every time I say that I never do! I brought that hundred-dollar bill down to zero in no time flat with absolutely no wins worth mentioning at all.
So what do I do like a fool? You guessed it, plopped another $100 in the machine and began spinning those reels with a vengeance. At this point I would be happy to break out even and get my money back.
KISS has some really cool features including the KISS Shout it Out that has three Bonuses. I watched those reels fly into motion hoping and praying for those three symbols to activate the Bonus game and get Free Spins.
Again absolutely nothing and it turned out to be more the KISS of death for me. And by the way don't let that $50 balance in my screen shot fool you I was down $150 at that point and down to zero again.
Sometimes I can be a die-hard and I am determined to get one of those Bonus games. I mean at least once…….just once…….please!
lipstick_xoxos