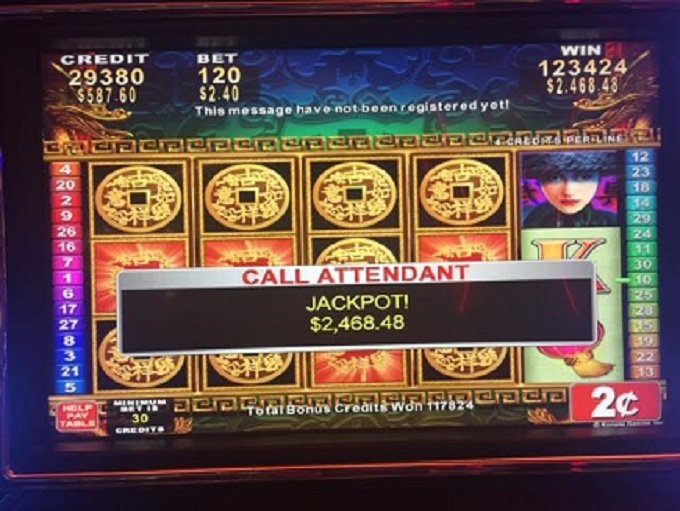 The Popularity of China Mystery Slot WAS a Mystery!
I haven't been to Rivers Casino for a few months but found myself taking advantage of the free $50 restaurant credits for Hugo's.
I don't go as often anymore because I find it to be more tailored for the big spenders. Oh, not to deny that I have spent a small fortune at the Casinos but at least my money goes further with lower denomination games elsewhere. I will say one thing for Rivers though, you may lose big but you can also win pretty big too.
After having an awesome dinner including a wedge salad with blue cheese and filet mignon sliders gratis of the house I began my journey onto the Casino floor.
Hard as it was I passed up the Video Poker machines that were a bit too pricey to play instead was in hot pursuit for Slot options.
I strolled past a bank of Slots that from Konami software and always noted from my previous trips here every seat was always taken. It is far from the newer graphics that are now available and to be honest wasn't quite intrigued to play. It's a Progressive machine with three several Jackpots. Top prize climbs to $500 and must go once it reaches it. But I figured if this many people are playing them they must be loose Slots and payers right?
There was one seat open and I grabbed it. China Mystery is a 2 cent slot and quickly realized what the major draw was. There is a potential to win a lot of Free Spins, I mean a LOT folks, starting at 8 up to 500 and potential to retrigger.
What I did notice the free spins come often but that doesn't mean you are going to win much. I hit 80 spins and my total win didn't amount to anything worth getting excited about.
It was when I hit 350 Free Spins that I thought maybe just maybe I might do pretty good. I retriggered more games a couple time and must have literally play over 500 total.
The granddaddy icon is the Chinese writing symbol against a red background. Get a bunch of those and you have hit it big! Well as luck would have it I did hit a bunch of them and on that one spin collected $1,600 alone. By the time I was done I won a staggering $2,468.48!
Oh yeah it was my time to shine at Rivers Casino and boy oh boy it was about time I got some of my money back from some of my other visits here.
I walked out with a strut in my step after I got hand paid and thought life is good today…it's really good!
lipstick_xoxos