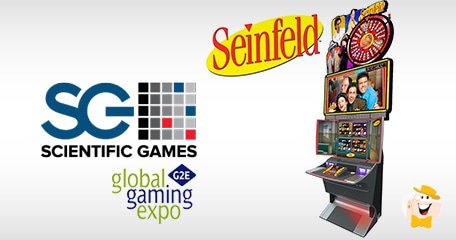 Fans of the classic 90's sitcom following four single friends in New York City, known as Seinfeld, will be excited with the latest announcement from Scientific Games. The brand, which provides gambling products and services to lottery and gambling services across the globe, will release a slot game based on the TV series.
The game will be released in partnership with Warner Brothers, and is scheduled to be premiered at this week's Global Gaming Expo (G2E), hosted in Las Vegas.
This latest title will boasts a number of added features, including wild reels, extra paylines, and bonus games, awarded by all of your favorite characters. Fans can expect to see key characters like Cosmo Kramer, Elaine Benes, George Costanza, and of course, Jerry Seinfeld, across the reels.
A progressive jackpot will also be up for grabs, awarded by the game's unique mechanical Festivus wheel. Popular clips from the show will also play during the Contest Bonus.
Scientific Games chief executive of gaming, Derik Mooberry, commented "We are ecstatic to unveil the Seinfeld slot game to attendees of G2E and entertain players on casino floors soon."
Mooberry continued, "The eccentric and fun-loving nature of one of America's treasured sitcoms, paired with the advanced technology of our ground-breaking Gamescape cabinet, truly delivers an unforgettable slot experience that transports players all the way to 81st Street on New York City's Upper East Side."
"We're pleased to showcase the wit, humour and antics of Seinfeld in an all-new and exciting format, as part of an interactive gaming experience which we know will appeal to all Seinfeld fans and newcomers alike. As part of the global lexicon, the hit television series is ingrained in our pop-culture with favourite moments and phrases – like Yada, Yada, Yada, Master of Your Domain, Man-Hands, Double-Dipping, The Costanza Wallet and so many more – this game is sure to reinvigorate these memories for fans," added Greg Paul, spokesman for Castle Rock Entertainment."
Source:
"Scientific Games Teams Up with Warner Bros. Consumer Products to Introduce SEINFELD Slot Game, Based on the Emmy Award-Winning Comedy TV Series, to be Unveiled at 2016 Global Gaming Expo in Las Vegas" scientificgames.com. September 26, 2016.