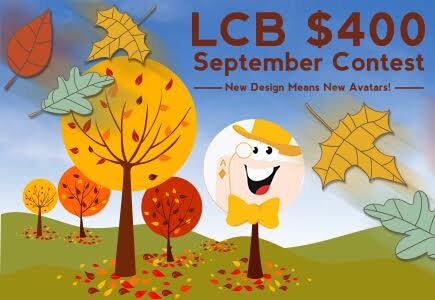 You've all been busy settling into the new LCB and while it's better than ever, we understand that it has taken some getting used to. In honor of our new look we're asking you to show us yours this month in the New Design Means New Avatar Contest!
The team is beaming with pride and we wanted to spread the joy and show members some love by bumping up the September contest prize pool to $400 in LCB Chips! Yep, we've thrown in another $150 and the prizes are oh so juicy.
In all, there will be 17 winners:
1: $100 Grand Prize winner
1: $50 winner
1: $45 winner
1: $40 winner
1: $35 winner
1: $30 winner
1: $25 winner
1: $20 winner
2: $10 winners
7: $5 winners
You're probably wondering what you have to do to win, right? Well, it's really easy. All you have to do is choose a new avatar and make it the funniest, wildest, coolest or cleverest for a chance to win. Go to your profile, drag and drop your new pic into place and save the changes. To enter, post in the LCB September Contest thread in the members only forum and we'll choose our favorites at the end.
Each member may enter only once so make it a good one. The contest will end on Monday September 26th at 11:59 EST so you've got plenty of time to participate. All prizes will be awarded in LCB Chips to be used in our shop, where you can claim valuable bonus offers or even rock branded merchandise like an LCB t-shirt.
Good luck!