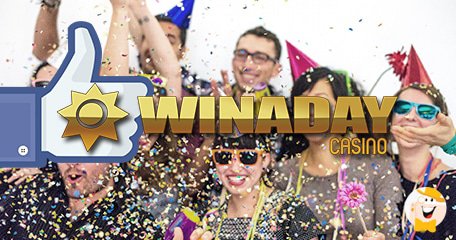 Slotland and WinADay Casino have a reason to celebrate this weekend as they've reached a new record following on their respective Facebook pages.
'For many players, interacting with other players on our Facebook pages has become a regular part of their casino experience,' said casino manager Michael Hilary. 'We do lots of contests and announce lots of special bonus offers on Facebook so it's definitely worthwhile to check in periodically!'
If you follow these casinos on Facebook, you're no stranger to the trivia contests featuring great prizes.
'Players seem to know our games really well - so many people have been correctly answering our trivia questions that we decided to make the last one a little more difficult' said Hilary. 'But even when we disguised the symbol in last week's contest on the WinADay page, they still knew that it was from the new Zodiac slot game!
Why not join in on the celebrations and take advantage of the following bonuses available this weekend only!
Slotland Bonus Offers:
50% Bonus – Bonus code HOTDEAL50 (claim up to 2 times)
70% Bonus – Bonus code HOTDEAL70
90% Bonus – Bonus code HOTDEAL90
110% Bonus – Bonus code HOTDEAL110
WinADay Bonus Offers:
Claim code '12FREEBIE' for $12 free
100% Deposit Bonus – bonus code MATCH100 (Min. deposit $35. May claim twice.)
70% Deposit Bonus – bonus code MATCH70 (Min. deposit $25. May claim once per day.)
40% Deposit Bonus – bonus code MATCH40 (Min. deposit $25. May claim up to 3 times per day.)
Be sure to enter codes prior to completing your deposits this weekend. All codes must be claimed by Sunday, August 14th so don't miss out.