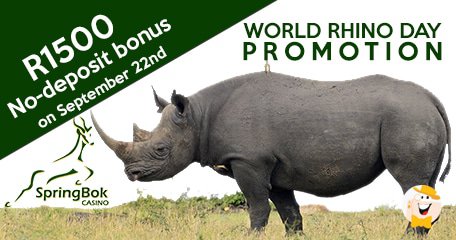 In light of the upcoming World Rhino Day, South Africa's Springbok Casino, will be hosting a rhino-inspired promotion on September 22nd. The rhinoceros is an especially important animal for the casino, as it is one of the country's 'Big 5' endangered species.
World Rhino Day was started by WWF-South Africa, in 2010. Over the years, it has grown into a globally recognized day, which celebrates all five species of rhino, including black, white, greater one-horned, javan, and Sumatran. Its goal is to lessen the demand for rhino horn, as well as disprove various myths about the rhino.
In order to qualify for the casino's promotional offer, members simply have to make a deposit during the month of September. Doing so, will earn them the opportunity to claim an R1500 World Rhino Day bonus, valid only on September 22nd. Members must utilize the coupon code, WRD-FREE, and there is a maximum cashout of R3000.
Reflecting on the inspiration for the promotion, Springbok's casino manager, Daniel Van Wyk, commented "There is a special Rhino that we often post about on Facebook. Our players love him. His name is Osita and he lives in a wildlife reserve near Cape Town. I had a chance to visit him on a recent vacation. It was a humbling experience. What a magnificent animal!"
Players will have access to hundreds of online slots and table games, powered by Realtime Gaming (RTG), when they play at Springbok Casino.