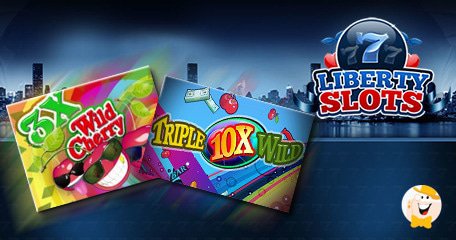 Mobile casino players who are looking for classic slots will find optimized titles from WGS. 'Triple Wild Cherry' and 'Triple 10X Wild', both featuring single paylines, are now available at Liberty Slots.
If you're the type of player who prefers all the bells and whistles of video slot you probably won't be attracted to the traditional slot symbols of cherries, lemons, sevens, bells and bars. With that said, Triple Wild Cherry has upped the ante slightly by building up anticipation with a progressive jackpot, which may be won with a 25 cent bet. The two wilds in Triple 10x Wild also amp up the intensity when combined to boost payouts.
But wait, maybe these games aren't really as basic as we thought. Bust out your 3D glasses to reveal another layer of gameplay by displaying win animations of coins pouring out of the machine.
If that's not enough to spark your interest, may Liberty Slots' special bonus will do the trick. Now through October 15th players are invited to take advantage of a 200% bonus worth up to $200 with coupon code 'TRIPLE3916'.
"These games have rocketed to the top of the charts in terms of the number of people playing. I haven't seen a reaction like this to a new game in years," said casino manager, Mark Ramirez. "They're straightforward to play, they pay frequently, there's no need to click to another screen to cross-reference the pay-table, and even the sounds are great!"