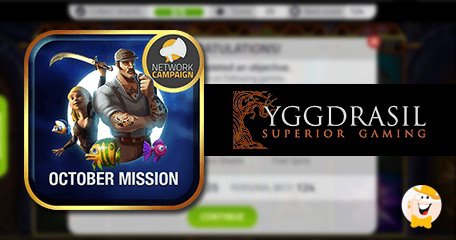 Cherry subsidiary, Yggdrasil Gaming, has recently introduced its latest promotional feature: Missions. The tool allows players the opportunity to score more cash prizes by working toward additional goals, which have been integrated into slot games.
The new feature is currently available, among other in-game promotional tools, via the brand's Boost collection. Such tools have been implemented to increase players' level of involvement during play. In particular, Missions requires players to complete given objectives to earn more prizes. Such objectives will include the accumulation of tokens, winning on a series of consecutive spins, or initiating free spins mode in a given timeframe.
According to Yggdrasil chief executive, Fredrik Elmqvist, "We are always on a mission to give players a much deeper, more exciting experience, and that is exactly what Missions does. It's the perfect way to create a more competitive environment within the games and an opportunity for operators to be creative when it comes to gamification."
The Missions feature will be live and accessible to all clients this November. Once it has gone fully live, it can be customized, with operators having the ability to modify the given objectives, creating their own. The feature can also be used simultaneously with others provided within Yggdrasil's Boost package.
Elmqvist went on to add, "Missions sits perfectly alongside our other in-game promotional tools in Boost, as well as our Brag social media tool and is yet another tool which allows operators to better cater for their players' wishes."
Source:
"Yggdrasil launches new Missions feature" yggdrasilgaming.com. October 7, 2016.