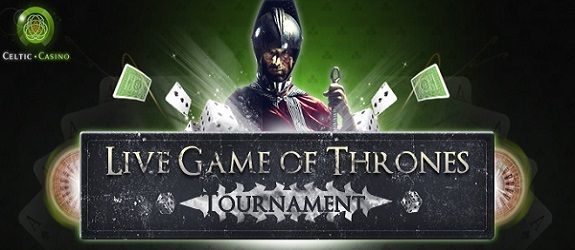 Celtic Casino Live Game Of Thrones Tournament
The sixth annual edition of the tournament comes back seeking to crown four players as the new kings of Live Roulette, Live Baccarat, Live Blackjack and of all live games.
Prize pool = €13,200
Duration:
October 1st
-
January 31st
Prize distribution for each of the 4 months:
1st - $2,000
2nd - $500
3rd to 10th - $100
The tournament schedule is as follows:
-
October 1st
through
October 31st:
Live Roulette King
-
November 1st
through
November 30th
: Live Baccarat King
-
December 1st
through
December 31st
: Live Blackjack
-
January 1st
through
January 31st
All Live Games to determine who is the "King of the Live Games"
How it works:
The tournament is four months long and dedicates each month to only one specific live dealer casino game at a time excluding the last month which is meant to proclaim the king of all live games. Players participating will be receiving daily leader board statuses during the length of the tournament event and players earn tournament points by presenting their wagering activity on the specific live dealer game for the month using real money. The total amount in wagers will determine the amount of points they earn. In other words for every euro/pound wagered a point is earned, this means a 100 euro/pound bet gives a player 100 points in return regardless if the bet is a win or loss
Real money deposits qualify.
WR: 35x
For every €1 wagered, 1 point will be awarded in the tournament.
Bonus funds wagered do qualify for the point calculation
No limit to the amount of deposits, withdrawals of winnings.
All bonuses are subject to Celtic Casino standard terms and conditions