Win Palace
-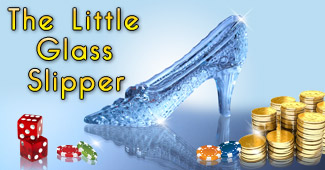 Just like Cinderella, you'll be the belle of the ball this week at Win Palace.
So put on your glass slippers and jump into your carriage, because it's time to dance the night away.
Don't worry though, when the clock strikes twelve, you'll be left with much more than pumpkins and mice.
Slots Offer:
Deposit any amount and get 194% bonus. Use code: GLASS1
Deposit $100 or more and get 234% bonus. Use code: GLASS2
Deposit $200 or more and get 275% bonus. Use code: GLASS3
Deposit $400 or more and get 335% bonus. Use code: GLASS4
Deposit $725 or more and get 400% bonus. Use code: GLASS5
Table Games Offer:
Deposit any amount and get 110% bonus. Use code: UPCARD1
Deposit: $100 or more and get 155% bonus. Use code: UPCARD2
Deposit: $200 or more and get 200% bonus. Use code: UPCARD3
Deposit $325 or more ‎and get 235% bonus. Use code: UPCARD4