Win A Day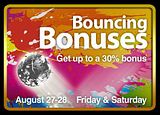 Bouncing Bonuses! Get up to a 30% bonus on your deposits!
Each deposit will earn you a bonus of anywhere from 10% to 30% of your deposit. Here is how Bouncing Bonuses work: on the first hour of the promotion, all deposits made by any player will earn an automatic and immediate 10% bonus. After the first hour the bonuses will start bouncing, either increasing or decreasing by 5% (subject to a maximum bonus of 30% and a minimum bonus of 10%). So deposit during our Bouncing Bonus Days and watch bonuses bounce into your account!
DURATION: This promo is valid from August 27. 2010 12:01 AM EST until August 28, 2010 11:59 PM EST. (from August 27, 2010 05:01 GMT until August 29, 2010 04:59 GMT).
Good Luck!