What Are Casino Online Tournaments?
Online Casino Tournaments enable you to compete against other online casino players for various prizes. Use your gaming skills to multiply your initial virtual tournament balance and win cash!
Over $750 is added weekly on most popular card games. Plus don't miss our $50 Roulette Weekend Freerolls!
How does it work?
The games work like regular games except that at the beginning of a tournament, each player is allotted a fixed number of coins and has a certain conditions to wager these coins.
When the tournament ends, the casino announces the official winners and immediately credits their accounts with their winnings.
To begin playing in a live tournament, log on to our Lobby and follow these three easy steps:
1.Click on Tournaments tab
2.Choose your Lucky tournament
3.Select a tournament and have fun!
Schedule (GMT 0)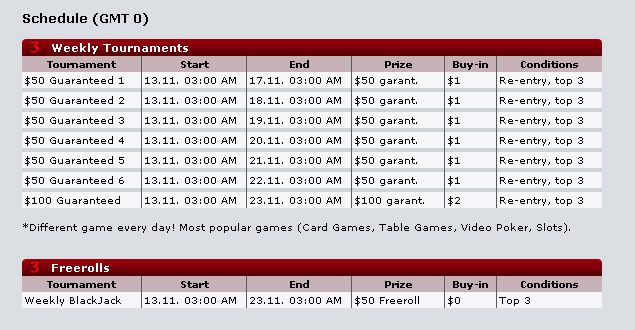 Good Luck,
Natalie