I never would have thought that such a thing existed...
The authorities in Honduras have seized a gold-plated, jewel-encrusted AK-47 assault rifle, complete with two silver magazines. The gun, estimated to be worth more than $50,000, is believed to belong to drug traffickers.
Honduran authorities said the gold-plated rifle had an engraving associated with the Malverde drug gang - which is allegedly connected to Mexico's Zetas cartel.
Here's the thingie: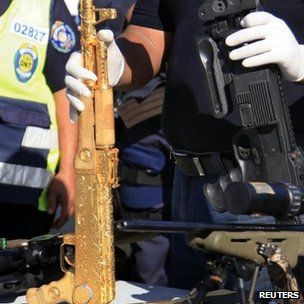 I think it looks... horrendous. You?