I think people are willing to do anything for their 15 minutes of fame; even more-so online.
"Owling involves perching on top of things in a crouching position and staring in to the distance like an owl. Like planking the craze comes with something of a risk factor with individuals being photographed perching in increasingly dangerous positions on top of fences and even statues."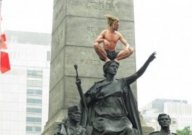 Just how much more ridiculous can things get?
Source: Daily Mail UK