Reading the women's comments in Lips' thread about what hair color you prefer in your man made me think about bald men.
So I ask...Are there any ladies here that prefer bald men over men with hair? Be honest. lol
Often times, I hear women talk about how bald can be sexy. However, I personally know of only one female that actually
prefers
bald men over guys with hair.
There are so many hair growth/ hair restoration products available for men. I think there is such a big market for these products because men know most women prefer a nice head of hair. Yes, its true...behind the tough guy exterior, most men are insecure about how they look in the eyes of their lady. lol We just want to look good for you!
Captain Jean-Luc Picard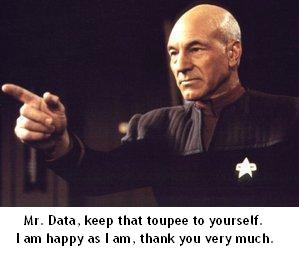 Screw you shampoo and conditioner!