Hi everyone,

In the spirit of the season, I wanted to share this article about some of the biggest pumpkins in the world. They're on display in New York.
"Four of the world's largest pumpkins are on display at the New York Botanical Garden in the Bronx during the next several days, as part of the institution's celebration of fall and Halloween...
1,2 Grown by Leonardo Urena from Napa, California this thing weighs 1,704 pounds!
3,4,5 At 1,807.5 lbs, this pumpkin, dwarfing kids and adults alike, was grown by David and Carol Stelts from Edinburg, PA.
6,7 Cut open and ready to be carved, Brant and Eleanor Bordsen from Maryville, CA grew this 1,693 lbs baby!
And the current world record holder, at a massive 1,818.5 pounds, coming from Jim and Kelsey Bryson in Ormstown, Quebec, Canada (8,9,10) was carved with a zombie like creature coming out of it, a design by Ray Villafane.
The huge pumpkins will be on display through October 30th."
Source: iReport.CNN.com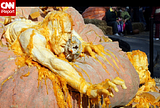 Me being me, I had to find some naughty carvings too.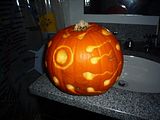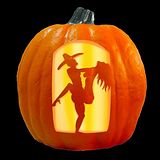 Feel free to share some fun designs.