This is a really touching story, found it on the BBC website:
Bablu Jatav's wife, Shanti, died on 20 September, soon after giving birth to their first child in Rajasthan state. Mr Jatav, 38, says since there is no-one else to look after the baby, he takes her to work with him every day. He is carrying his month-old daughter in a cloth sling around his neck.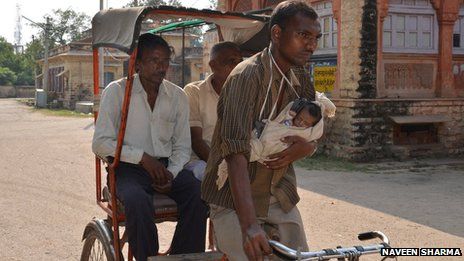 "Shanti died soon after delivering the baby at the hospital. Since there is no-one to look after my daughter, I keep her with me even when I pull my rickshaw," Mr Jatav says. "We had this baby after 15 years of our marriage, my wife was so happy when we were blessed with a daughter, but it is very sad she passed away. I have to pay 500 rupees ($9) a month as house rent and 30 rupees daily to rent the rickshaw."
Now a local charity has agreed to help Mr Jatav take care of the baby.