For those of you who don't know, Ron Jeremy was in the porn industry and know for his large package
He's now in the hospital under close watch after doctors found and aneurysm near his heart.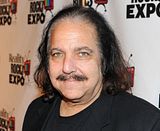 Speaking of porn, what is your stance on the industry or better yet, what is your stance on your mate watching a bit of it? Does it make you uncomfortable or can I find you sitting right next to them enjoying the show?
Me, I don't care. If it's something that takes over the relationship then it's a different story. If you can't even hold hands without popping in a DVD something is wrong.