Hiya LCB'ers,
We would really appreciate your help to spread the word about LCB even further. As you are probably aware we have implemented social share buttons ( for Facebook, G+ and Twitter ).
These buttons are located at the top of each topic :
and at the left side menu on each page on our site :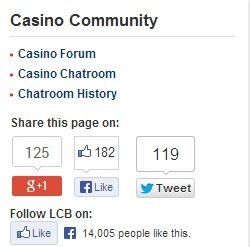 This won't take more than a few seconds of your time but would mean a great deal to us. So please if you find interesting, cool and worth sharing any topics, forum exclusives, news, no deposit lists etc do share it with your friends on your social profiles.
So if you feel like giving something back to LCB please use these shares as often as you can.
Thank You in Advance
The LCB Team