Its the subject of many movies & books, but what would happen in a real zombie apocalypse ?
The CDC ( Centers for Disease Control ) would treat the incident like any other outbreak of an infectious disease. Research, testing and infection control would be enacted to determine the cause of the disease, how it spreads and how it can be controlled.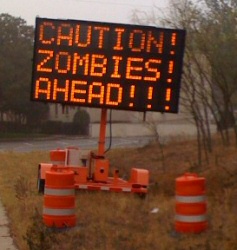 I know what I would do, head for the nearest Costco. Plenty of food, water, books, music, movies and NO windows.
As long as a zombie wasn't inside, you could live for quite some time.
t;">Source: http://blogs.cdc.gov/publichealthmatters/2011/05/preparedness-101-zombie-apocalypse/