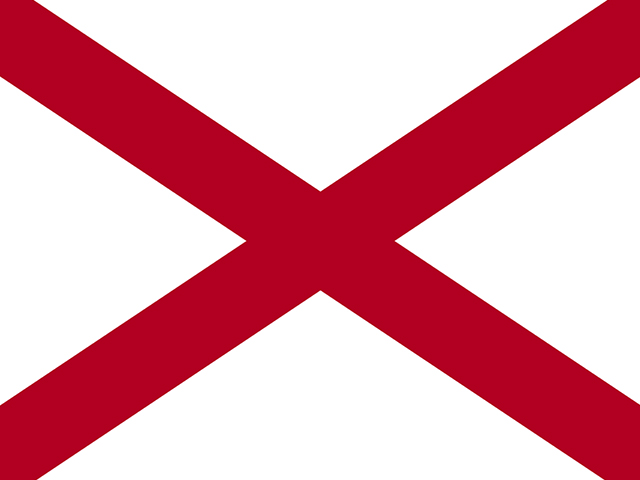 Alabama
Back to list of Restrictions
Welcomes

The State of Alabama is something of a tough nut to crack because the laws make it illegal for an individual to, "Knowingly advance or profit from unlawful gambling activity as a player." The Alabama statute is somewhat unique in this regard because it is one of only a few to actually focus on the players as opposed to just operators. When it comes to, 'Unlawful gambling,' most states have a tendency just to focus on operators or, in the case of illegal physical gambling, they tend to focus on the individual who houses the gambling.
Even then, as a practical matter, 'Home,' games, even when unlawful, are very rarely prosecuted unless the individual or entity hosting the game is collecting some kind of vig. Granted, if there are other offenses involved, such as an argument that escalates into a fight as a result of the gaming, then, 'Unlawful Gambling,' charges may be slapped on as an, 'Add-On,' but it is very rare (if ever) that any individuals face any criminal charges for the mere act of gambling.
Alabama State law also makes, 'Possession of a gambling device,' illegal in the event that such gambling device is to be used in the course and scope of, 'Unlawful Gambling.' In other words, it is perfectly legal to be in possession of, for example, a Roulette wheel as long as such implement is not being used for unlawful gambling. If it is used for unlawful gambling, then the charge may be, 'Possession of a gambling device,' which is a Class A misdemeanor.
Interestingly enough, the law would seem to point to the possibility that a person losing at gambling could recover the sum lost as the first part of the code states in Section 8-1-150, "All contracts founded in whole or in part on a gambling consideration are void." Of course, such a declaration would likely not result in a successful lawsuit against an Online Casino, (they are usually housed and based in different countries such that no U.S. jurisdiction has any judicial authority over them) but by the letter of the law, any contract and payment to that casino in the State of Alabama is fundamentally void and the player could theoretically institute a civil suit to recover any sum lost.
Of course, in order to do that, the player would also be tacitly admitting to being guilty of, 'Unlawful gambling,' so that is kind of a double-edged sword.
Section 13A-12-21 covers the concept of, 'Simple Gambling,' in the State of Alabama which is the statute (which is a Class C Misdemeanor) that makes it illegal to participate in, 'Unlawful Gambling,' as a mere player. It is an affirmative defense, however, to have been engaged in social gambling games within a private place, however, online gambling is unlikely to fall under this definition.
In the State of Alabama, Class C Misdemeanors can result in fines of up to $500 and up to three months in jail. However, this excellent Article:
In that Article, there is mention of a bookmaker who conducted his business online being arrested and having to forfeit $60,000+ to the Feds, however, an undercover detective points out that the City of Birmingham has not made any arrests related to sports betting or online gambling. He points out that this is not due to a lack of actual betting or evidence of actual betting, (there is plenty of both of those things) but rather, they simply have no interest in making the arrests as there is nobody complaining about the matter.
Furthermore, when it comes to that bookmaker who was arrested, let us not forget that knowingly accepting Sports Wagers (commercially) whether online or otherwise, or to knowingly transmit sports betting information electronically IS a patent violation of Federal Law. The bookmaker who was charged was arraigned in a Federal Court rather than a state court of Alabama. Quite simply, that is a federal matter.
For those interested in recent arrests, and this would apply to any state:
One can clearly see that the focus is on operators rather than individual bettors, and that is an aspect of gambling enforcement (as far as unlawful gambling is concerned) that is unlikely to change.
Unfortunately, a perusal of the Alabama codes leaves more questions than answers as it relates to the state of online gambling. The first question that I would have is, "Does it actually constitute unlawful gambling if there is nothing on the books specifically describing online gambling as unlawful?" The reason I would ask this question is because there are other states that refer simply to, 'Unlawful Gambling,' but those states have a tendency to specifically indicate what forms of gambling are legal and then proceed to say any form of gambling not so covered would be considered unlawful. Alabama does no such thing, the law simply describes a few physical means of gambling as unlawful and, in fact, comes nowhere close to even covering all of those!
The second question that I would have is whether or not the use of a computer for online gambling could constitute, 'Possession of a gambling device.' In my non-professional (IANAL) opinion, I would suggest it does not because that is one aspect of the law that seems to focus on individual or entities who are actually operating the online gambling, rather than mere players.
My final word on the State of Alabama is that it is one of only a few states that provide a penalty for those engaged in, 'Unlawful Gambling,' as mere players, though the penalty is just a Class C Misdemeanor. Most states, even those that have statutes with respect to, 'Unlawful Gambling,' tend to only have penalties for actual operators. However, as with just about any state, the State of Alabama shows little to no interest in actually enforcing the law on mere players. Finally, I think there is a legitimate question as to whether or not participating in online games of chance would even constitute, 'Unlawful Gambling,' pursuant to state laws. Strong arguments could be made both ways.
Overall, I am going to rank Alabama as, 'Moderately Restrictive,' and that is mostly just because the law does provide penalties for mere players engaged in, 'Unlawful Gambling,' and if you forced me to call it...I would suggest that Online Gambling constitutes Unlawful Gambling, even though it is somewhat ambiguous.
FINAL RANK: Moderate-12
151

Casinos Found
Refine Results
We have done the homework for you. The online casinos listed to the right can be played in the State of Alabama.
We are only showing casinos that support players from United States.
€5

No Deposit Bonus EXCLUSIVE

READ

AU$5

No Deposit Bonus - EXCLUSIVE

READ

$50

No Deposit Bonus - EXCLUSIVE

READ

SLOTSBPJVC10

Expires on 24th Mar 2017

READ
lcb activities in the last 24 hours
23

new members

737

members online

11318

guests online

105

new posts

8606

free games played
Join the club
Join today and start earning rewards
You will immediately get full access to our online casino forum/chat plus receive our newsletter with news & exclusive bonuses every month.
Join instantly with your social account